WebRTC is… everywhere.
WebRTC started some 6 years ago. It was just another VoIP protocol specification that just happened to be targeted at browsers.
Six years in, and now WebRTC is everywhere. There are still those who believe it has failed, or haven't lived up to its expectations. I'd say it is the vendors who failed to adopt it are the ones that have failed.
How do I know?
It has to do with those that are using it. Here are 10 massive applications that are making use of WebRTC. These companies trust WebRTC to offer them the leverage they need to deliver the user experience they strive for.
Looking for more vendors using WebRTC? Here are 10 interviews with inspiring vendors using WebRTC.
What's Massive in WebRTC Land?
Before we start though, I want to say a word about what massive is.
It is really hard to know what's massive. How do you count it? Especially when none of the vendors are willing to share their numbers in meaningful ways here.
So let's do a back-of-the-napkin kind of calculation here for a sec –
In the recent Kranky Geek event, Google shared in their session an interesting statistic:
Over 1.5 billion of weekly audio/video minutes.
That's easily upwards of 214 million minutes a day.
And that's only on Chrome.
This number doesn't include:
Other browsers. Today that means Firefox, Edge and Safari
Usage through plugins. Which covers Internet Explorer
Electron and CEF based applications. And there are a few very popular ones I can think of
Mobile applications, making use of WebRTC
Those who take the bits and pieces of WebRTC that they need, integrate it with their service, and then just make use of it (not always with proper attribution)
So the numbers are larger. Much larger.
The Google Machine and its Leftovers
Back to that more than 214 million minutes a day.
During March 2017, Serge Lachapelle, the person in charge of WebRTC in the past and now of Google Hangouts and Meet, shared some numbers about video conferencing at Google during Google Cloud Next 2017:
9+ years daily translates to over 4.7 + minutes daily.
That's the amount of use Google makes internally of Hangouts.
It is safe to assume that external use of non-Googlers can double that number with little effort to over 9 million minutes a day.
And continuing this lenient calculation, Hangouts accounts for 4-5% of all voice and video traffic in WebRTC.
Consider here fact that I counted Hangouts over multiple devices, browsers and applications while comparing it to Chrome only numbers, so I am fudging here a bit. On the other hand, I took non-Googlers to account for only half the usage, which is probably way too little.
Anyways, let's look at them 10 massive applications who are already using WebRTC.
1. Google Meet and Google Hangouts
9+ years daily. Inside Google alone.
Google Meet (or more accurately, Hangouts) is most probably one of the main reasons we have WebRTC.
Google had their own video conferencing service, working from Gmail, but it needed a plugin. Real time video just wasn't there in the browser, which is where and why WebRTC started. And it started with a contribution by Google which we now know as webrtc.org.
To date, Google Meet (or Hangouts), is a massive application that makes use of WebRTC.
2. Facebook Messenger
Here's something I wrote some 5 years ago. It is about Skype vs Facebook. Here's how I phrased it then:
Facebook can adopt WebRTC and provide a calling experience that surpasses most VoIP players.
The rest of the analysis then is kinda funny. Facebook did end up adopting WebRTC wholeheartedly into Messenger, but none of my suggestions were implemented (which in hindsight was probably for the best).
Here's where Facebook have integrated WebRTC already:
Messenger – video chat and group video chat, mobile and browser
Facebook Live – when co-broadcasting
VR Chat – video calls in Oculus
Then there's Workplace by Facebook and Instagram Live Video Chat
All using WebRTC. I am even ignoring WhatsApp here (not sure what parts of WebRTC they use exactly).
At the recent Kranky Geek, we had Li-Tal Mashiach of Facebook talk about what it is they are doing with WebRTC and how do they scale their service.
No minutes here, but 400 million people using WebRTC every month. That's 13+ million people a day on average. With only a minute each this is already massive.
3. Discord
I came across Discord and its use of WebRTC in July 2016, through a message I saw on Facebook somewhere. As any other vendor that gets into my radar, I continued to follow them closely.
Discord is a social platform for gamers (for lack of a better term). They have been around for only 2.5 years. This month, they shared a few numbers. Specifically:
Nothing here about voice and video, but I do know that the numbers here are impressive.
4. Amazon Chime
Amazon Chime is new to the scene of unified communications and already big.
Chime started as an acquisition only a year ago of a company called Biba. It was probably already well underway to become a replacement for Amazon's own internal video conferencing services. At Amazon's re:invent event last month, Amazon shared a few numbers of how they use Chime internally: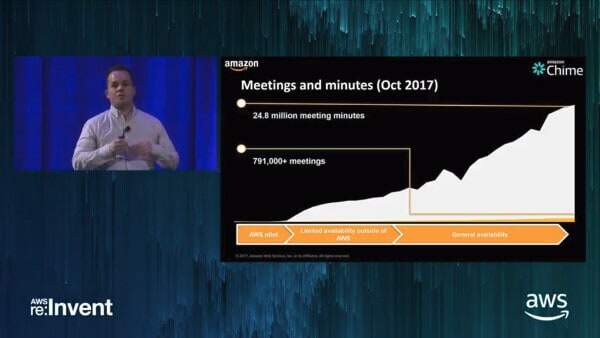 24.8 million minutes a month. That's almost a million minutes a day. From Amazon's internal meetings only. Not including any of their Chime customers.
Not as massive as the others, but still quite large.
One thing to note – this isn't "pure" WebRTC. Amazon took the approach of supporting legacy video conferencing systems first, so they "did" something to WebRTC to make it work. Their roadmap for next year is to add direct browser for users as well. What we do know, is that this uses WebRTC technologies inside today already.
Oh… and I didn't even mention Amazon Connect, Alexa and Mayday – all making use of WebRTC.
5. Houseparty
Houseparty is huge. Especially if you're a teen. My daughter will probably start using it in a few years… once she grows out of Whatsapp and Musical.ly. Or so I've been told.
Houseparty makes use of WebRTC, although it is a mobile only service.
There's not much numbers going on about Houseparty this year, so I'll stick to the ones we know from a year ago.
20 million minutes a day.
Enough said.
6. Appear.in
Appear.in started as a summer internship project at Telenor Digital somewhere, growing up to this point in time. Today it got acquired by Videonor.
The service is a favorite of many in the WebRTC community (and elsewhere – they are doing millions of minutes a day).
If you haven't tried it yet, then you should: appear.in
And yes. It is in the league of the other vendors here when it comes to size.
7. Gotomeeting
There are many traditional VoIP (interesting that VoIP can now be considered traditional) that have started adding WebRTC to their offerings.
Most can probably make it into this list of massive applications.
Out of them, I decided to choose GoToMeeting. Why? Because the integration they've done was quite a natural one. I've been using it for well over a year now whenever someone invited me into a meeting over GoToMeeting – in most cases, they weren't even aware of the browser option.
8. Peer5
I wanted to add a company that doesn't do voice and video. Or rather ones that are making use of the WebRTC's data channel.
The one I picked here was Peer5. It was the easiest for me to get numbers from (I am an advisor there).
The P2P CDN scene is getting quite interesting lately. Alongside the startups like Peer5 that are pushing the envelope we now see companies like Akamai who stated publicly that they are headed this way with WebRTC as well.
In this year's Kranky Geek event, Hadar Weiss, Co-founder and CEO of Peer5, shared a few of their numbers: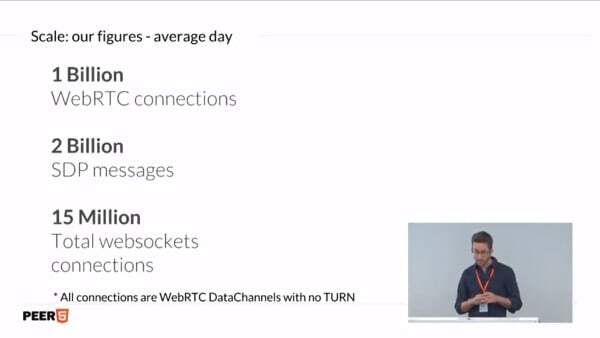 1 billion connections a day is large. Compared to millions of minutes a day. But we have to remember – a lot of these connections are short-lived in nature (viewers reaching out to peers they might stream data from or to) and that the more interesting number, which isn't publicly available yet, is about actual data traffic.
9. CPaaS vendors
CPaaS vendors drive this industry forwards. They do so for the smaller vendors as well as the largest ones.
Need examples?
In 2016, Twilio claimed to process "more than a billion minutes of WebRTC calls made through Twilio" as part of their launch of Voice Insights.
TokBox has stated this year that they power social video apps including Monkey, Houseparty, Fam and live.ly.
And they are not alone with it. There are 20+ such vendors catering to the needs of other developers.
Some of the CPaaS vendors can definitely be considered massive when it comes to the WebRTC traffic they generate.
10. Back to you now
I most definitely forgot a vendor or two here.
Scroll down and comment below with your 10th candidate for the massive application using WebRTC.
WebRTC is Still Miniscule
Let's look at some other engagement metrics out there.
Netflix shared their numbers for the year this month:
Netflix members around the world watched more than 140 million hours per day
Hours. Not minutes. In minutes? That's 8.4 billion minutes a day. For a single vendor. Compared to WebRTC's 214 million minutes a day on Chrome.
I'd say WebRTC has room to grow.
Here's for a bigger 2018.
Looking for more vendors using WebRTC? Here are 10 interviews with inspiring vendors using WebRTC.