Chat won't bring carriers to their SMS-glory days.
The Verge came out with an exclusive last week that everyone out there is regurgitating. This is my attempt at doing the same 🙂
We're talking about Google unveiling its plans for the consumer chat experience. To put things in quick bulleted points:
There's a new service called "Chat", which is supposed to be Google's and the carrier's answer to Apple iMessage, Facebook Messenger and the rest
Google's default messages app on Android for SMS is getting an upgrade to support RCS, turning it into a modern messaging application
The moment this happens will vary between the different carriers, who are, by the way, those who make the decision and control and own the service
Samsung and other Android handset manufacturers will probably come out with their own messaging app instead of the one provided by Google
This is a risky plan with a lot of challenges ahead of it
I'd like to share my viewpoints and where things are going to get interesting.
SMS is dead
I liked Mashable's title for their take on this:
Google's plan to fix texting on Android is really about the death of SMS
While an apt title, my guess is that beyond carriers and reports written to them, we all know that already.
SMS has long been dead. The A2P (Application 2 Person) SMS messages are all that's left out of it. Businesses texting us either their PIN codes and passwords for 2FA (2 Factor Authentication) and OTP (One Time Passwords) or just sending us marketing junk for us to ignore.
I asked a few friends of mine on a group chat yesterday (over Whatsapp, of course) when and how do they use SMS and why. Here are the replies I got (I translated them to English):
I prefer Whatsapp. It is the most lightweight and friendly alternative. I only use SMS when they are automatically sent to me on missed calls
Whatsapp is accessible. It has quick indicators and it is lightweight. It remembers everything in an orderly fashion
I noticed that people take too long to respond on SMS while they respond a lot faster over Whatsapp. Since SMS is more formal to me, I use it when sending messages for the first time to people I don't know
I send SMS only to people I don't know. I feel that Whatsapp is more personal
I use iMessage only with my boss. She's ultra religious so she doesn't have Whatsapp installed. For everything else I use Whatsapp
I mostly use Whatsapp for messages. I text via SMS only with my wife when I am flooded with Whatsapp messages and just want her notifications to be more prominent
SMS is dead for me. I don't even have it on my home screen, and that says anything. I use SMS only to receive PIN codes from businesses
SMS is the new fax
These are 40 year olds in Israel. Most working out of the IT domain. The answers will probably vary elsewhere, but here in Israel, most will give you similar answers. Whatsapp has become the go-to app for communications. So much so, that we were forced to give our daughter her first smartphone at the age of 8 only so she can communicate with her friends via Whatsapp and won't stay behind. Everyone uses it here in Israel.
You should also know that plans upwards of 2Gb of monthly data including unlimited voice and SMS in Israel cost less than $15 a month in Israel, so this has nothing to do with price pressure anymore. It has to do with network effects and simple user experience.
SMS is no longer ubiquitous across the globe. I can't attest to other countries, but I guess Israel isn't alone in this. SMS is just the last alternative to use when all else has failed.
Why is SMS interesting in this context?
Because a lot of what's at stake here for Google relates to the benefits and characteristics of SMS.
RCS is (still) dead
RCS is the successor of SMS for getting carriers into the 21st century. It has been discussed for many years now, and it will most definitely, utterly, completely, unquestionably get people back from their Messenger, WhatsApp and WeChat back to the clutches of the carriers. NOT.
RCS is a design-by-committee solution, envisioned by people my age and older, targeting a younger audience across the globe in an attempt to kill fast moving social network with a standardized, ubiquitous, agreed upon specification that then needs to be implemented by multiple vendors, handset manufacturers and carriers globally to make any sense.
Not going to happen.
Google's take on this was to acquire an RCS vendor – Jibe – two years ago for this purpose. The idea was probably to provide a combination of an infrastructure and a mobile client to speed up RCS deployments around the globe and make them interoperable faster than the carriers will ever achieve on their own.
Two years passed, and we've got nothing but a slide (and the article on The Verge) to show for this effort:
An impressive list of operators, OEMs and OS providers that are behind this RCS initiative. Is that due to Google? To some part, probably so.
In a way, this reminds me also of Google's other industry initiative – the Alliance of Open Media, where it is one of 7 original founding members that just recently came out with AV1, a royalty free video codec. It is a different undertaking:
RCS will be controlled by carriers, who were never kind or benevolent to their users
For carriers, the incentive can be found in the GSMA's announcement: "GSMAi estimate that this will open up an A2P RCS business worth an estimated $74bn by 2021"

This is about securing A2P SMS revenues by migrating to RCS
The sentences before this one in that announcement explain how they plan on reaching there: "The Universal Profile ensures the telecoms industry remains at the centre of digital communications by enabling Operators, OEMs and OS Providers to deliver this exciting new messaging service consistently, quickly and simply."
Problem is, they are not the centre of digital communications, so this isn't about ensuring or remaining. It is about winning back. And you can't do that if your focus is A2P

This isn't about an open platform for innovation. Of a level playing field for all. And that makes it starkly different from the AV1 initiative. It is probably closer to MPEG-LA's response in a way of a new video codec initiative
Why is Google going into bed with the carriers on this one?
Google had no choice
The Verge had an exclusive interview with Anil Sabharwal, the Google VP leading this effort. This led to the long article about this initiative. The numbers that Anil shared were eye opening as to the abysmal state of Google's messaging efforts thus far.
I went ahead and placed these numbers next to other announced messaging services for comparison: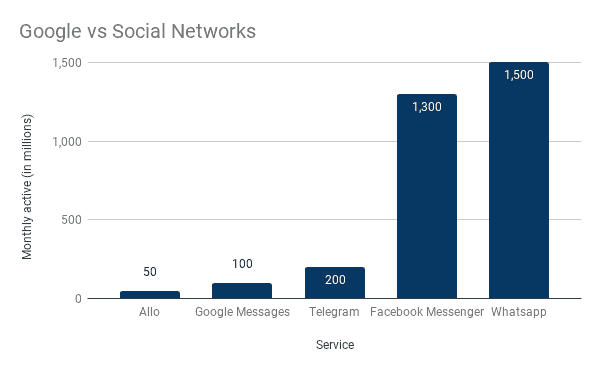 A few things to note here:
Telegram, Facebook Messenger and Whatsapp are all apps users make a decision to install, and they are making that decision en masse
Apple has upwards of 1.3 billion active devices, which indicate the general size of its iMessage service
Google Messages is the default app on Android for SMS, unless:

Carriers replace it with their own app
Handset manufacturers replace it with their own app
Users replace it with another app they install

Google Messages sees around 100 million monthly active users – the table-stakes entry number to be relevant in this market, but rather low for an ubiquitous, default app
Google Allo has less than 50 million downloads. That's not even monthly active users
Google Hangouts stopped announcing its user base years ago, and frankly, they stopped investing in it as well. The mobile app is defunct (for me) for quite some time now, with unusual slowness and unresponsiveness
Google failed to entice its billion+ Android users to install or even use its messaging applications.
Without the numbers, it couldn't really come up with a strategy similar to Apple iMessage, where it essentially hijacks the messaging traffic from carriers, onboarding the users to its own social messaging experience.
Trying to do that would alienate Google with the carriers, which Google relies on for Android device sales. Some would argue that Google has the klout and size to do that, but that is not the case.
Android is open, so handset manufacturers and carriers could use it without Google's direct approval, throwing away the default messaging app. Handset manufacturers and carriers would do that in an effort to gain more control over Android, which would kill the user experience, as most such apps by handset manufacturers and carriers do. The end result? More users purchasing iPhones, as carriers try to punish Google for the move.
What could Google do?
Double down on their own social messaging app – hasn't worked multiple times now. What can they do different?
Build their own iMessage – alienate the Android ecosystem, with the risk of failing attracting users as they failed in the past
Partner with carriers on RCS
Two years ago, Google decided to go for alternatives (1) and (3). Allo was their own social messaging app. Had it succeeded, my guess is that Google would have gone towards approach (2). In parallel, Google acquired Jibe in an effort to take route (3), which is now the strategy the company is behind for its consumer messaging.
The big risk here is that the plan itself relies on carriers and their decisions. We don't even know when will this get launched. Reading between the lines of The Verge's article, Google already completed the development and got the mobile client ready and deployed. It just isn't enabled unless the carrier being used approves. Estimates indicate 6-12 months until that happens, but for which of the carriers? And will they use the stock Android app for that or their own ambitious better-than-whatsapp app?
E2EE can kill this initiative and hurt Google
The biggest risk to Google is the lack of E2EE (end to end encryption).
In each and every regurgitated post of The Verge article and in The Verge itself this is emphasized. Walt Mossberg's tweet was mentioned multiple times as well:
Bottom line: Google builds an insecure messaging system controlled by carriers who are in bed with governments everywhere at exactly the time when world publics are more worried about data collection and theft than ever.
The problem for Google is that the news outlets are noticing and giving it a lot of publicity. And it couldn't come at a less convenient time, where Facebook is being scrutinized for its malpractice of how it uses and protects user data in the Cambridge Analytica scandal. Google for the most part, has come unscathed out of it, but will this move put more of the spotlight on Google?
The other problem is that all the other messaging apps already have E2EE supported in one way or another. The apps usually mentioned here are Apple iMessage, Signal and Telegram. Whatsapp switched to E2EE by default two years ago. And Facebook Messenger has it as an option (though you do need to enable it manually per conversation).
Will customers accept using "Chat" (=RCS) when they know it isn't encrypted end to end?
On the other hand, Russia is attempting to close Telegram by blocking millions of IP addresses in the country, and taking down with it other large services. If this succeeds, then Russia will do the same to all other popular messaging applications. And then other countries will follow. The end result will be the need to use the carrier (and Google's) alternative instead. Thankfully, Russia is unsuccessful. For the time being.
Who owns the data?
Carriers do.
With RCS, the carriers are the ones that are intercepting, processing and forwarding the messages. In a way, it alludes to the fact that Google isn't going to be the one reading these messages, at least not from the server.
This means that either Google decided there's not enough value in these messages and in monetizing them – or – that they have other means to gain access to these messages.
Here are a few alternatives Google can use to accessing these messages:
Through licensing and operating the servers on behalf of carriers. Not all carriers will roll their own and may prefer using Google as a service here. Having the messages in unencrypted format on the server side is beneficial for Google in a way, especially when they can "blame" the carriers and regulations
Via Google's Messages app. While messages might be sent via a carrier's network, the client sending and receiving these messages is developed and maintained by Google, giving them the needed access. This can be coupled with features like backing up the messages in Google Drive or letting Google read the messages to improve its services for the user
By coupling features such as Google Assistant and Smart Replies into it, which means Google needs to read the messages to offer the service
Google might have figured it has other means to get to the messages besides owning and controlling the whole experience – similar to how Google Photos is one of the top camera apps in Apple iTunes.
By offering a better experience than other RCS client competitors, it might elicit users to download its stock Chat app on devices who don't have it by default. Who knows? It might even be able to get people to download and use it on an iPhone one day.
The success of Google here will translate into RCS being a vehicle for Google to get back to messaging more than the means for carriers to gain relevance again.
Ubiquity is here already, but not via SMS or RCS
I'll put the graph here again – to make a point.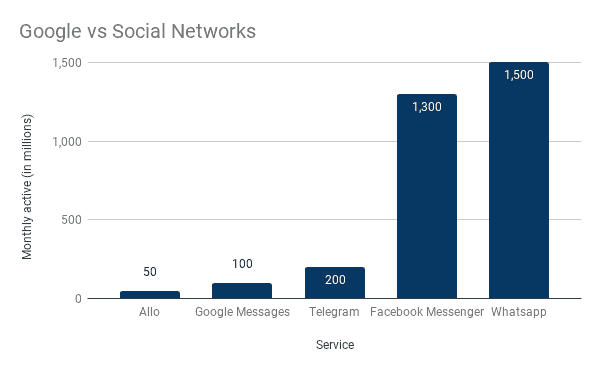 1.5 billion people is ubiquitous enough for me. Especially when the penetration rates in Israel are 100% in my network of connections.
People tend to talk about the ubiquity of SMS and how RCS will inherit that ubiquity.
They fail to take into account the following:
SMS is ubiquitous, but it took it many years to get there
It is used for marketing and 2FA mostly
The marketing part is less valuable

It can be treated as spam by consumers for the most part
It is one way in nature, where social networks are around conversations
Spam and unsolicited messages don't work that well in social networks

2FA will be shifting away from SMS (see here)

Google does a lot of its 2FA without SMS today
Google can open it up to third parties at any point in time
Apple can do the same with the iPhone

The shift towards RCS won't be done in a single day. It will be done in a patchwork fashion across the globe by different carriers
Think about it.
You can now send out an RCS message from your device. To anyone. If the other party has no RCS installed, the message gets converted to SMS. Sweet.
But what happens when the person you are sending that RCS message is located abroad? Are you seriously happy with getting a payment request from your carrier on a stupid international SMS message, or a full conversation of such for a thing you could have easily used Whatsapp for instead? And for free.
Ubiquity isn't the word that comes to my mind when thinking about RCS.
The holy grail is business messaging
Consumer messaging is free these days. There is no direct monetary value to be gained by offering this service to consumers. Carriers won't be able to put that jinni back into its bottle and start collecting money from users. Their only approach here might be to zero-rate RCS traffic, but that also isn't very interesting to most consumers – at least not here in Israel.
The GSMA already suggested where the money is – in business messaging. They see this as a $74bn opportunity by 2021. The problem is that rolling RCS 6-12 months from now, by only some of the carriers, isn't going to cut it. Apple Business Chat was just released, vertically integrated, with a lot of thought put into businesses, their discovery process and free of charge.
Then there's the rest of the social networks opening their APIs towards the businesses, and contact center solutions driving the concept of omnichannel experiences for customers.
Carriers are getting into this game late and unprepared. On top of that, they will try to get money out of this market similar to how they do with SMS. But the price points they are used to make no sense anymore. Something will need to change for the carriers to be successful here.
Will carriers be able to succeed with RCS? I doubt it.
Will google be able to succeed with Chat? Maybe. But it is up to the carriers to allow that to happen.