Twilio Flex is a peak into the future of enterprise software.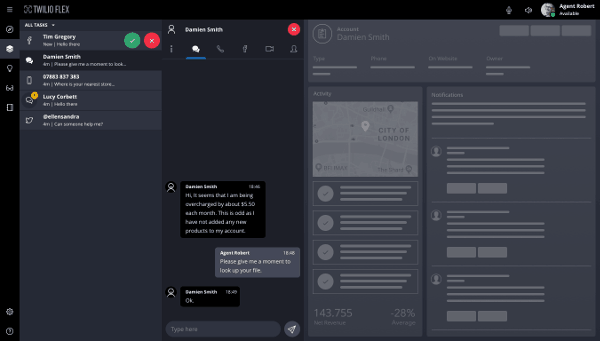 This week, Twilio announced a new product called Flex. The name and the broad strokes about what Flex is found their way to TechCrunch some two weeks ago. I wanted to share my thoughts about Twilio Flex.
A few notes before I start
Twilio isn't paying me for writing this

They are a customer in other areas, but this one is all me. I think Flex (as well as Studio, Engagement Cloud, Functions, etc.) are interesting products coming from Twilio, and they are worth a long form analysis and review
Articles on BlogGeek.me are never paid for. Neither are guest posts or interviews. If something interests me, I'll write about it

The information here is based mainly on a briefing I received about Flex and what I found since then on other sites (and on Twilio's website)
Flex is a departure of many things Twilio has been doing, making it an interesting initiative to analyze
What is Twilio Flex?
Twilio Flex is CCaaS (Contact Center as a Service. It isn't the first one. Twilio is touting it a Programmable Contact Center, which is how they are referring to all of their products.
Here's Jeff Lawson's keynote from Enterprise Connect, as usual, Jeff's keynotes are worth the time and attention:
Where Twilio tried to differentiate Flex from existing solutions is by making it a fully functional contact center solution that is Flexible enough to customize and modify. It has APIs, but the day-to-day users won't see them, and a lot of the customizations needed don't require digging deep into the API layer either. That's at least the intent (I didn't have the chance to see the integration and API layers of Flex yet).
Twilio highlights 5 main benefits with Flex:
Unlimited customization – through the lower layers of Twilio's product portfolio, along with a new addition to it, the Flex UI (not a lot/enough was explained about it thus far)
Instant omnichannel – support for multiple communication channels. More on this later
Contextual intelligent – Twilio's ML/AI roadmap lies here
Trusted scale- due to its use of the Twilio infrastructure
2 million developers – that's the number of Twilio registered developers
Flex fits well into one of Twilio's largest market segments – the contact center. And there, Twilio are aiming for the contact centers sizing 1,000+ seats. The big boyz.
As it was working to move up the food chain, offering ever larger components, migrating away from developers towards end users in the B2B space and in contact centers made sense.
Flex and the Twilio Portfolio
If I had to map the road Twilio is taking with its portfolio, it would end up being something like this (I've removed a lot of the products for simplicity):
Transactional: It started with SMS and Voice, adding VoIP services and later on expanding horizontally to other components and building blocks such as IP Messaging and others. In this layer, and to some extent in Omnichannel, Twilio's focus is in a horizontal expansion towards "Best of Suite" offering.
Omnichannel: In 2017, Twilio added the Twilio Engagement Cloud. It placed a few existing products from its portfolio in that layer and added Notify and Proxy to them. They stated that these are "Declarative APIs" talking about general intent while including logic of their own. At the end of the day, many of the products/APIs in this layer are Omnichannel – they work across channels using the one available/preferred/whatever for the task at hand.
Visual: This is where the story became really interesting. Twilio added Studio to its portfolio. It went up the food chain again, this time, with a visual IDE and a message that Twilio is no longer a company that serves only developers, but one that can be used by others within the organization.
Programmable Enterprise Software: This is where Flex comes in, going up the food chain again. This time, offering a solution that doesn't interact with the end users only as a consequence (a phone rings), but rather has a new set of users – people who aren't developers or planners who sit in front of the tool every day and use it. The contact center agents and personnel.
Flex was defined to me in the domain of "Programmable Applications". Twilio, in a way, trying to do two things with this definition:
Programmable means it isn't diverging from its roots completely, just taking the obvious next step in its evolution. All of its core products are Programmable X (X being SMS, Voice, Video, …)
It allows it to position Flex not as another contact center, but rather as something new that is different
To me it is about the future of enterprise software and how to make it programmable and flexible in ways that are still impossible today. The closest to that we've got is probably having so many vendors integrate with Zapier.
I am sold to that kind of a future, but I am not sure others will be.
Flex Channels Proposition
Flex leans on a lot of other products in Twilio's portfolio. One of its core values lies in omnichannel, and the fact that Twilio is already investing in a programmable layer that handles that (the Engagement Cloud). The proposition here is that whatever Twilio adds as a channel for developers, gets almost automatically added to Flex for its contact center customers.
Out the door, Flex comes with support for Voice, SMS, Chat, Video, Email, Fax, Twitter DM, Google RCS, Facebook Messenger and LINE. It also includes Screen Sharing and Co-Browsing as additional capabilities within the interactions. Developers can add additional channels to customize their contact center as well.
The list of channels is impressive, but somehow Apple Business Chat is missing in that list. Apple's launch partners in this case were contact center vendors (LivePerson, Nuance, Genesys and Salesforce). Twilio, which is still recognized solely as a CPaaS vendor didn't make the cut. I am sure Twilio tried becoming a partner, so this is more likely a decision made by Apple. I am also sure that once Apple opens up Business Chat to more developers, Twilio will be adding support to it.
The biggest promise here? Twilio is already committed to omnichannel in its products, and Flex will enjoy from that commitment as will Flex' customers.
Think you know how WebRTC fits in a contact center? Check out with The Complete WebRTC Contact Center Uses Swipefile
Machine Learning and Artificial Intelligence in Flex
A year or two ago, ML and AI in CPaaS was science fiction. Twilio as well as its competitors delved in the real time. In transactional and transient communications. If any machine learning work was taking place, it was in the operational layers – in an effort to optimize cost and deliverability of its service to its customers.
Last year, Twilio launched Understand, a layer built on top of Google's Natural Language Processing capabilities (NLP). Understand is where Twilio started looking in ML and AI in the context of actual services for its customers. It looks at the problem domain of its customers (mainly contact centers) and tries to offer higher level APIs that are easier to use and are targeted at NLU (Natural Language Understanding). This then gets focused to the specific domain of the customer's needs, and you get something that is usable today (as opposed to building a general purpose AI such as Siri, Alexa or Google Assistant).
The result in Understand is a way to simplify the development processes and requirements for Twilio's customers when it comes to NLU.
That also got wrapped into Flex, at least on slides.
My feelings? The AI story of Flex is built out of two parts:
Collecting all the existing ML/AI/intelligent related capabilities of Twilio and wrapping them inside Flex. This is done through internal APIs as well as via partners
Having a roadmap vision / story of what AI means in Flex moving forward
AI being the holy grail that it is, you can't ignore it when launching a new service these days.
Flex Pricing is Key
Pricing for Flex hasn't been announced, but one thing was made clear – it will be based on a per seat price and not usage based as other Twilio products.
UPDATE: Twilio clarified that pricing is undecided yet and multiple models are being looked at, including per seat and usage based.
This is where things get somewhat challenging for Twilio, and here's why:
Twilio has been comfortable so far to offer a usage based model. Switching to a per seat model will have its differences in how it calculates its revenue and margins
By opting for per seat pricing, Twilio falls into the contact center industry "comfort zone" – the model is known and accepted already
But this also makes comparing Twilio Flex pricing to other contact centers rather "easy". It means I can now compare apples to apples when selecting between Flex and any other vendor
We don't have price points, but if the price point will be based on the industry average or accepted standard, then many analysts and experts will end up saying that there's no disruption or anything new in Twilio Flex. For the pundits, Flex may seem like an ordinary contact center and without price disruption there can be no disruption with that mindset
If the price points are too high, then Twilio will be going after its own contact center customers, who will see this as direct competition. Such a move can signal others that Twilio is willing to go into their turf as well. It will question the potential and attractiveness of joining the Flex marketplace
If the price points will be lower, then where will be the margins for Twilio?
My guess is that Twilio is still looking for price validation and it is doing so this week at Enterprise Connect and planning to continue doing so in the coming weeks until it is ready to announce the price points publicly.
Who is Twilio Flex for?
This is the main question, and one that I am not sure of the answer.
Twilio is saying the target audience is 1,000+ seats contact centers. It makes sense to go for the larger contact centers at a time when the transition towards the cloud and digital transformations of contact centers is happening more.
But would I be using it in my business or go through a third party?
Should a Twilio customer that built a contact center on its own on top of Twilio migrate to Flex?
Should a Twilio customer that built a contact center for others to use on top of Twilio see Flex as a threat or as an opportunity to improve its own contact center offering?
Twilio stated that 89% of contact centers today are still deployed on premise, and that the market is large enough. These statement was said to answer two questions:
The market is big enough for both its existing customers and for Flex, so it isn't competing directly with its customers (I guess its customers will have to decide if that's true for them or not)
The market is big for Twilio to grow in. Twilio is relying on that to keep growing
Twilio was already trending upwards when the word on Flex leaked by TechCrunch on Feb 17, and has increasing since:
source: Google
Is that related to Flex or not, I can't say. To me, going to contact centers as an adjacent market and eating up more of the pie there is a bold move. If it succeed, then Twilio will be much bigger than it is today.
The Unknowns
There are things that are still unknown to me here. They are technical ones, but important for my own perspective and analysis. They are related to what wasn't directly in the briefing or the materials I've seen since the official announcement.
Here are a few things I am really interested in:
What are the exact integration points for Flex?
How are developers expected to integrate with it?
Where do you use Twilio APIs? Where will you be making use of Twilio Studio? Where do you write a Twilio Function? How about Twilio Understand?
Flex UI is brand new. How does it fair as a standalone product enabler? What can developers do with it?
What will it mean to integrate Flex with a CRM? Does it make more sense to integrate the CRM into the Flex UI or does it make more sense to integrate Flex into the CRM UI?
What parts of "contextual intelligence" really exist in Flex today? How does it compare to existing market offerings?
What do contact center vendors using Twilio think about Flex? How will they react to it?
Is CPaaS Eating CCaaS?
Maybe.
Here's one way to map the communications landscape:
And here's another:
What's your worldview here?